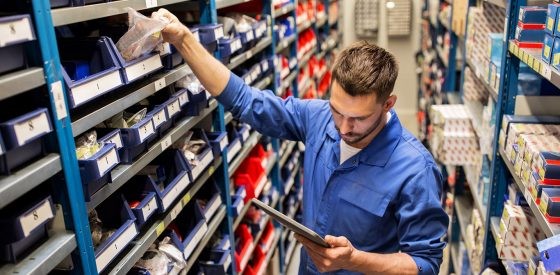 If your industry is outside manufacturing and development, it might not make much sense to have an MRO strategy. To most businesses, especially office companies, MRO spending is just an inevitable part of keeping a business alive - one that doesn't warrant much thought or attention.
From light bulbs to floor cleaners to a variety of office supplies, most managers don't realize that there is an opportunity to spend less on these items by getting more in quantity or paying below market value. The key is just finding suppliers that are willing to create long-standing, profitable relationships with organizations like yours.
But this process isn't always simple. Negotiating MRO contracts can be particularly time-consuming, especially if you're working with multiple vendors for a variety of products. Procurement specialists like Centerpoint simplify the MRO process and make it more cost-effective by consolidating orders through an organized system.
Today's Economy and MRO Supplies: Why Procurement Specialists Matter Now More Than Ever
Today's market isn't what it used to be. Oversaturation in different industries may have led to lower costs, but it can also mean more lenient vendors. Instead of enjoying exclusive deals and time-sensitive agreements, more and more vendors are becoming relaxed in a competitive market.
Instead of meeting production quotas, they can let orders stockpile, leading to backlogged orders. The consequences of such delays aren't universal across all industries. For businesses in IT, technology, manufacturing, and travel, delays in MROs can lead to severe losses caused by delayed maintenance and upkeep and other forms of business interruption.
The aviation industry alone is experiencing major challenges when it comes to its MRO. Challenges specific to the aviation industry include:
Inventory management issues. With e-Procurement, it can be tempting to hoard items, only for them to be antiquated as new jet models roll out. As such, procurement managers need to be more hands-on when balancing inventories and stocks.
Responding to the demand. MRO providers for aviation companies are switching from a steady production model to a as-needed basis. As a result, both buyers and providers have to adapt to a reactive supply chain, which makes it all the more challenging to ensure that the right items are provided at the right time.
Industries with needs similar to aviation and travel might have a difficult time adjusting to new MRO trends, whereas companies in retail might remain unaffected by current economic changes.
On the other hand, it's not just physical MRO products that are shifting. With the Asia-Pacific region expecting economic growth, more MRO services including maintenance and repair are expected to happen in that region. As a result, more MRO companies in Asia-Pacific will emerge, eventually exporting their workforce to meet both local and international demands.
This sudden boom in MRO services isn't always a good thing. For starters, foreign companies and workers may not be knowledgeable about local compliance laws and standards, which could lead to subpar work. This makes it difficult for business owners to distinguish one MRO service provider from another.
Beyond Savings: Why Choose Centerpoint
At Centerpoint, we implement comprehensive, adaptive, and predictive strategies to give you the best MRO savings. Our MRO experts understand that this is an ever-changing market, which allows us to find the best ways to cut down on costs, regardless of what the current trends may be.
As a business with many complex operations and necessities, handling an array of MRO products and services is not only time-consuming but costly.
Unknowing managers might be spending up to 40%of their procurement budget just for the inventory alone, according to the Supply Chain Management Review. With a proper MRO strategy, our experts can eliminate unnecessary costs and give you the best value for your business.
This includes:
Finding MRO service providers that have been vetted for your industry. We are partnered up with service providers that have been known to meet both local and global standards.
Consolidating your MRO orders and purchases through an organized system. This ensures that your supply closet and inventory always have what you need, right when you need it. We coordinate delivery dates and replenishment efforts based on your needs and production or usage rate.
Access to insider information. Our experts at Centerpoint are well-connected and can give you exclusive access to deals that would have otherwise been inaccessible. We also offer proactive advice when available and help you adapt to impending industry changes before they even become mainstream.
Your organization deserves a procurement partner that knows your market from the inside-out. Get in touch with us today to learn more about how Centerpoint can help cut down costs in your industry.