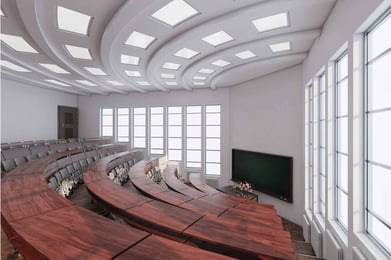 Instead of waiting for that critical system or piece of equipment to break down, include these six areas in your institution's preventive campus maintenance program.
As college infrastructures continue to age, institutions need to balance new construction with renovations. According to Gordian's 2018 State of Facilities in Higher Education, over the last 10 years, the number of buildings that are over 50 years old is increasing. With operating budgets being stagnant, most campuses are finding a growing list of renovation projects and no funding to do the work.
One of the best ways for institutions to preserve existing buildings is to perform preventive campus maintenance (i.e., organized and planned servicing of equipment to ensure systems are functioning properly) in key areas. According to the Guide to Operating and Maintaining EnergySmart Schools, by replacing parts before equipment fails, you can ensure it's running at peak performance.
Here are six areas of campus that should be included in your institution's preventive maintenance program:
While developing a preventive campus maintenance plan takes time and money, deferring maintenance can push you into a costly and disruptive breakdown/reactive mode. Adopting a preventive maintenance mindset will help ensure your institution's and student's success.
---
The information contained in this article is intended for general information purposes only and is based on information available as of the initial date of publication. No representation is made that the information or references are complete or remain current. This article is not a substitute for review of current applicable government regulations, industry standards, or other standards specific to your business and/or activities and should not be construed as legal advice or opinion. Readers with specific questions should refer to the applicable standards or consult with an attorney.