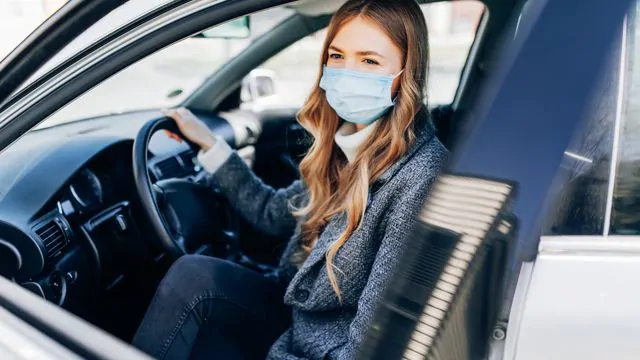 COVID-19 spread across the world in early 2020, practically eliminating business travel. As the U.S continues to combat COVID-19, leaders have slowly opened state borders for business; however, as your business operations resume, it's important to follow guidelines that protect your employees, customers and communities.
COVID-19 Travel Guidelines
Leading global health authorities have specific recommendations that can help reduce the risk of spreading COVID-19. These recommendations include:
Wearing face coverings in public and/or around others

Maintaining social distancing by keeping 6 feet away from others

Staying home if feeling ill

Washing your hands frequently

Bringing hand sanitizer and/or disinfectant wipes with you during travel

Sanitizing high-touch surfaces with disinfectant

Several states have mandated quarantines for travelers returning from other states; however, rules vary state-to-state and can change quickly. Check with each state's local government for their reopening plan so you know what to expect during your travels.
Read more about health and safety precautions recommended by the CDC.

Renting a Car During COVID-19
When it comes to traveling during COVID-19, consider steps you can take to protect your health. Different forms of transportation have different risks. What makes travel by car stand out is the control it offers. You're able to choose how close you are to others and have sanitizer more readily available and plan your route, ensuring you get to where you need to be on your terms. Renting a car also provides benefits, like:
No wear and tear on your personal vehicle

A trip can be hard on your vehicle and can lead to future repairs. A rental car is an easy and convenient alternative.

Control

With a rental car, you have more control over your environment, including things like how many people are around you and availability of face coverings and sanitizer.

Finding the right car for your trip

Renting a vehicle gives you the flexibility to select the features that will best meet your needs, be they more cargo space or 4-wheel drive.

If you decide to rent a car during these unprecedented times, there are a few things you can do to help protect you and the communities you may visit or travel through. This includes:
Wearing a face covering when entering public places on your route, like gas stations or rest stops
Using hand sanitizer where regular hand washing stations are not available
Bringing disinfectant wipes for sanitizing where cleaning supplies are not readily available
Practicing social distancing around large groups and/or individuals
Utilizing curbside pickup and delivery options for rental vehicles
Planning your route to help maintain social distancing standards

Flying During COVID-19
If your travel plans include flying, don't forget to incorporate health and safety precautions and recommendations from leading health authorities. You may also want to consider the following best practices:
Checking in for flights online

Air travel requires spending time in security lines and airport terminals, which an bring you in close contact with other people and frequently touched surfaces.

Allowing yourself extra time at the airport

With enhanced safety measures being implemented across the country, it's likely your wait time at airports could increase.

Bringing hand sanitizer or disinfectant wipes

Make sure you have one of these options available in case you need to sanitize your hands or airplane seat

Wearing a face covering

Face coverings may help slow the spread of COVID-19


Learn more about important TSA responses and what those changes could mean to your business travel.
Staying in a Hotel During COVID-19
Many hotels have implemented safety measures to protect guests and staff during the pandemic; however, the following personal steps are also recommended by leading health authorities:

Wearing a face covering when around other individuals
Using hand sanitizer where regular hand washing stations are not available
Practicing social distancing around others
Avoiding staying in locations where COVID-19 cases are spiking
Making sure you know the hotel's plans to protect guests and staff, especially if someone becomes ill during their stay
Bringing disinfectant wipes to sanitize high-touch points in your room
Opening windows (if possible) to ventilate your room
Avoiding shared hotel facilities like pools, gyms, bars and restaurants
Bringing your own items to use in your room, like your own water bottle instead of using the glass in your room
Read more recommendations for hotel stays during the COVID-19 pandemic.
---