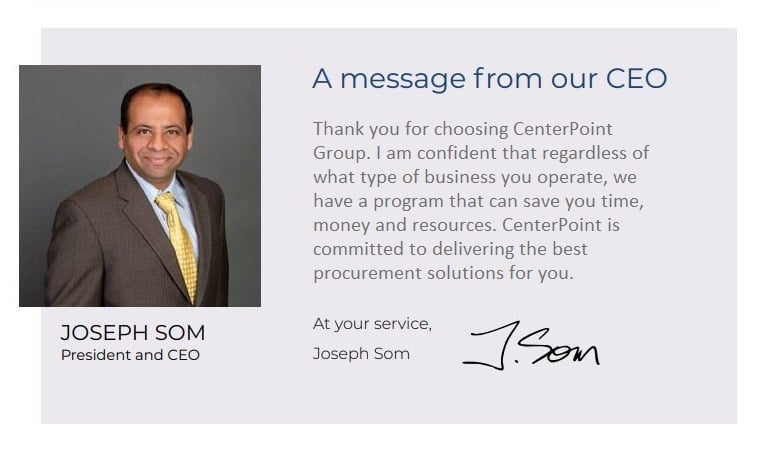 What to expect as a CenterPoint member
CenterPoint is a Group Purchasing Organization which combines the purchasing power of its members to get maximum discounts from suppliers, for all its members. The collective buying power of the group far exceeds what one company can generate on its own. Our mission is to provide best-in-class service to members.
Integrity — Our solutions don't end with implementation—CenterPoint will continue to audit and manage your account to ensure that prices are billed correctly and service levels are maintained. Additionally, we will continue to benchmark your program against your company's evolving purchasing trends to identify more savings opportunities.
Leadership — With 10 years of market data and experience, our team of industry leaders uses their background and extensive experience to provide members with information to make savvy buying decisions. We deliver savings to our members by utilizing advanced monitoring systems and by continuously adjusting your program to keep it running at optimal levels even as spending patterns change.
Value — Our system is proven to reduce costs immediately, with a 96 percent savings rate over the last 10 years. We don't require long-term contracts, and our members get the advantage of our best-in-practice terms and conditions; there are no purchase minimums, and we offer multi-year protection with indexed pricing and caps.
Find out what your CenterPoint team can do for you today!
---